70 Years of HJ
70 Years of HJ
Posted on Wednesday, January 2nd, 2019 at 4:31 pm by Michael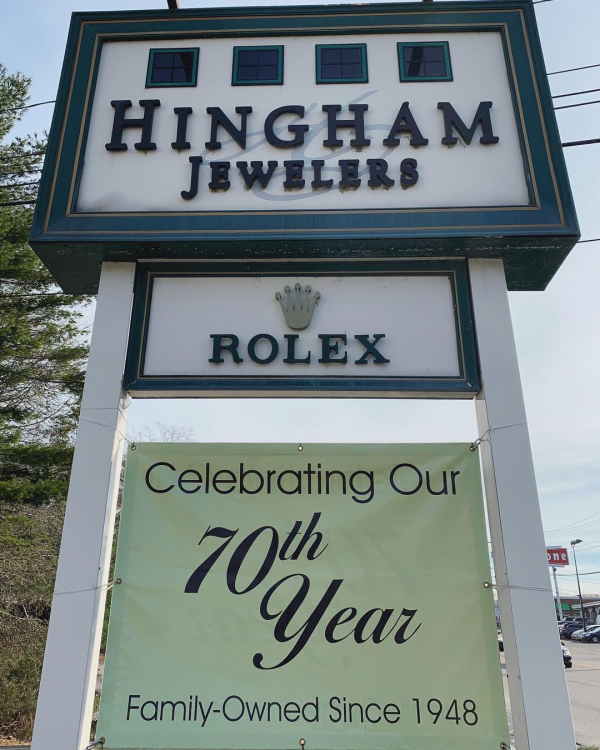 As we begin 2019, we want to thank you for 2018--our 70th year serving Hingham and the entire South Shore as a locally owned, second generation business.
It started in January when we marked 30 years since the 1988 fire that ravaged Hingham Square. Our store, and several other downtown businesses, burned to the ground in the overnight blaze. After the fire we rebuilt stronger along Route 53 in South Hingham, just down the street from our current location.
In May we welcomed the Chronicle team from NewsCenter 5 into our store to show off one of our hot new collections, Colby Davis of Boston.
And just a few weeks later we threw a 70th birthday bash, celebrating our big milestone and showering our loyal customers with a few beautiful jewels.
In June we met Julie from Plymouth, the winner of our Random Act of Kindness Giveaway. Nominations poured in from around the South Shore, each highlighting someone in need of a $1,000 HJ shopping spree. We couldn't believe all of the amazing nominations that came in.
In the fall we donated a beautiful bracelet to the 'Making Lives Better' Gala, a major fundraiser for Road to Responsibility, a local organization that assists those living with disabilities on the South Shore. Even after a few months we think the raffle winner, Shannon, is still smiling.
We capped off the year collecting items, with your help, for the Hingham Food Pantry.
It was our mission in 2018 to thank you, our customers, for supporting us for the last seven decades.
We can't wait to celebrate many more years to come, starting with 2019.