Shop Your Shape
Shop Your Shape
Posted on Tuesday, February 14th, 2017 at 12:29 pm by Victoria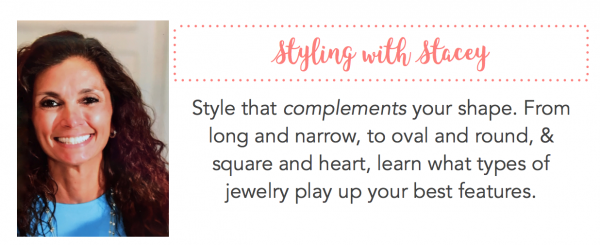 When we shop for clothes we take body shape and personality into account. I, like most women, strive to play up my best features while simultaneously concealing things I don't quite love as much. Let's face it, we are all different, so why are we taking our shape into account only when purchasing clothing and sunglasses? Shopping for body type applies to jewelry as well. The right jewelry on the right person can make all the difference in the world!
Face shape is the biggest factor to take into account when shopping for jewelry, second only to personality and, of course, style! The five common face shapes are oval, round, square, heart, and long. Each shape has it's own distinctive characteristics and suggestions for complementary jewelry.
Oval
Oval shaped faces are considered the ideal face shape by fashion designers around the world, and that's because it means anything goes! Characterized by softly rounded jawlines with the widest point being at the midpoints of the face, women with oval faces can pull off nearly anything. If you have are an oval shape and want to downplay the length of your face, I recommend drop earrings that are short to medium in length. Earrings that are too long drag the face down making it appear longer than it is. Angular earrings with slightly rounded corners are winners because they show off your cheekbones.
Round
If your face is widest at your cheekbones without any taper to the chin, you have a round face. Round faces are characterized as having a face almost as wide as it is long with a full and round jawline with gradual curvature. If you're goal is to downplay the fullness of your face, avoid circular earrings such as ball studs and hoops because these styles make the face appear more full by emphasizing roundness. Look for drop or oval earrings or shapes with gently curved lines to make the face appear longer.
Square
Square shaped faces have a strong, angular jaw with a hairline of a similar width. To offset the squareness of the jaw, avoid earrings that end at the horizontal jawline. Earrings that hit either above or below that point downplay the jawline. Go for rounded and oval earrings to soften the face. For the neckline, the higher the necklace the more it emphasizes the jaw. Look for pendants that incorporate long, straight lines.
Heart
Heart shapes faces, or an upside down egg shape, taper down from the forehead and usually have strong cheekbones and a tapered, angular jaw. This shape is perfect for drop earrings as it achieves balance between the upper and lower parts of the face by filling in the space around the jawline. My tip is to avoid short necklaces as they can overemphasize the smaller jawline.
Long + Narrow
Long and narrow faces possess many of the same features of an oval shape, but with a vertical line. The face is noticeably longer than it is wide with flatter cheekbones. Women with long faces tend to be longer throughout that body, which can sometimes be too much of a good thing. If you have a long neck, look for earrings with some width that sit up higher on the ears to add fullness to the face. The same rule applies to necklaces. Draw the eye to the face and not down by wearing necklaces that sit up higher on the décolletté.
Other Things to Consider
Bone structure:
Small- Look for thin and delicate jewelry. You wouldn't want to overpower your natural beauty.
Medium to Large- You can pull off the larger statement pieces so more power to you.
Lifestyle:
Are you planning on wearing your new piece at home, work, or on an evening out? Depending on your office environment you want want to opt for something more conservative and versatile. If you're frequently on the phone, will those earrings become a nuisance after a while? Going out for dinner and drinks? Forget the studs and wear something fun!
Coloring:
Do you have warm or cool undertones? Warm undertones look fabulous in yellow and rose gold while those with cooler undertones look great in white gold and sterling silver.
The bottom line is jewelry should make you look good and feel good as well. Each piece you own needs to relate to you, the wearer, and honor your character and personality. It should speak to you. As always, these are merely suggestions and things to think about. You'll have to try pieces on to really get a feel for your personal style and preference.
Pop in and see us at Hingham Jewelers. We're happy to guide you through the process of finding the perfect jewelry that you will find yourself reaching for for years to come because they'll feel like a million bucks.
Warm wishes,
Stacey Page